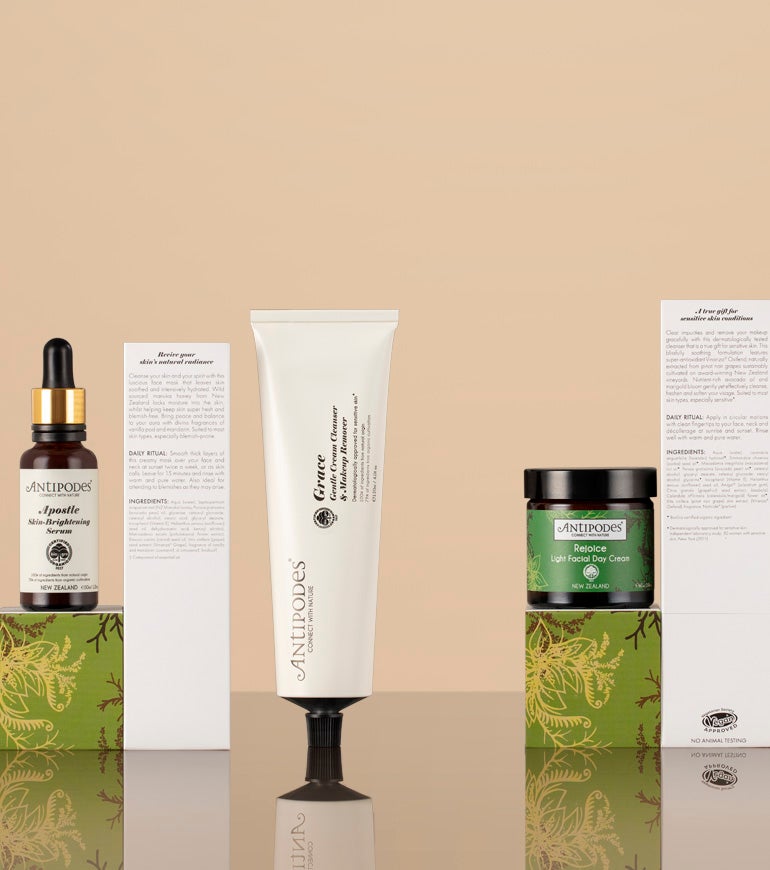 Your personal sensitive skin regime
Your goal? Happy skin. Your base regime contains four ultra-gentle products that soothe and strengthen.

Because your skin type is combination, we've chosen formulations that balance, caring for dry and oily areas alike.

We recommend patch testing first.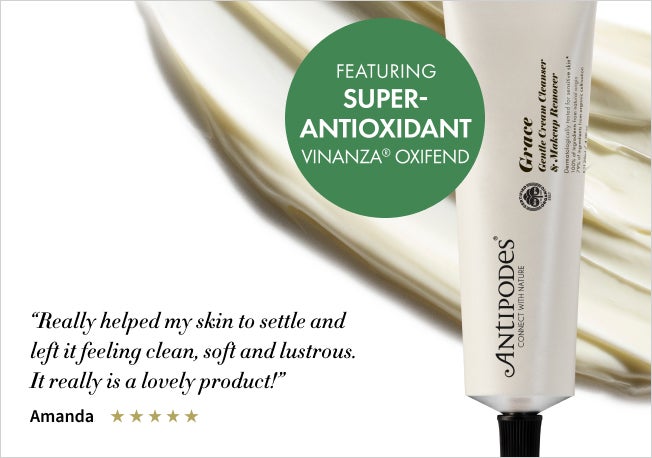 1. Grace Gentle Cream Cleanser & Makeup Remover
Gently cleanses without stripping • No added fragrance • Calming Vinanza® Oxifend

A rich yet gentle cream cleanser that removes makeup and impurities while leaving skin soft and nourished. Anti-inflammatory extract Vinanza® Oxifend helps calm irritation and redness. Certified organic and vegan.
Learn More
Add To Cart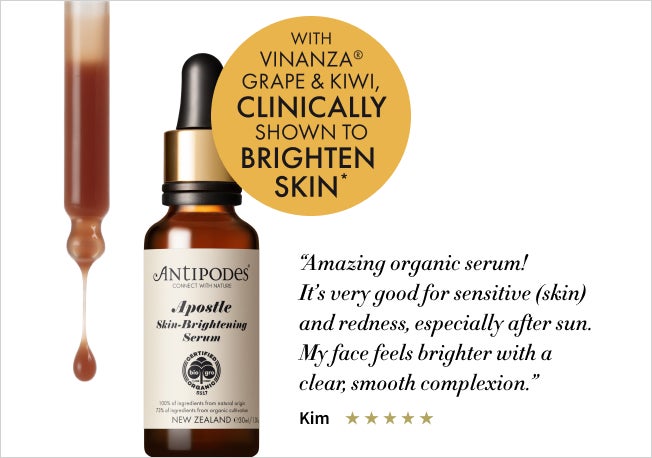 2. Apostle Skin-Brightening Serum
Targets pigmentation • Brightens blemished & uneven skin • Calming Vinanza® Oxifend
A water-based serum to help brighten dull, pigmented and uneven skin. Antioxidant-rich compound Vinanza® Grape & Kiwi joins Vinanza® Oxifend and mamaku black fern to freshen. Certified organic and vegan.
Learn More
Add To Cart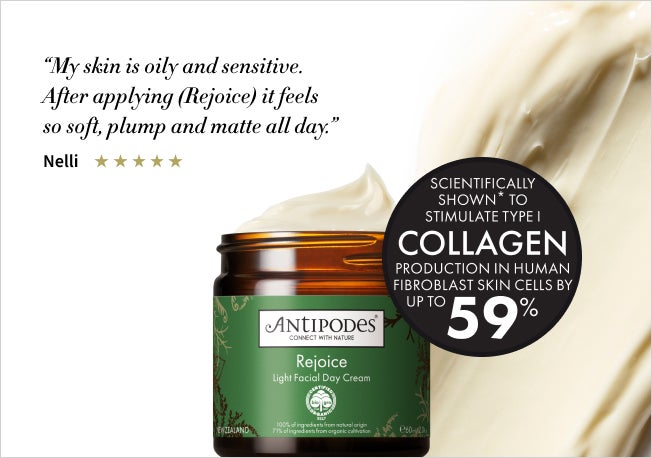 3. Rejoice Light Facial Day Cream
Softens & calms • No added fragrance • Soothing manuka flower
A moisturizer rich in texture yet gentle on skin. Oils of avocado, manuka flower, macadamia & jojoba hydrate and soften to leave skin calm and balanced. Certified organic and vegan.
Learn More
Add To Cart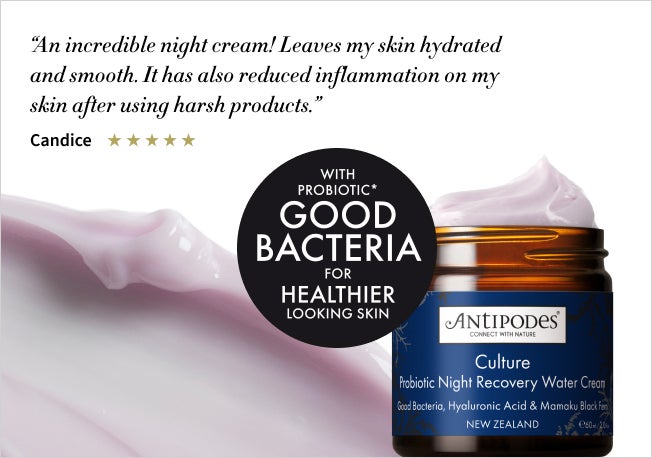 4. Culture Probiotic Night Recovery Water Cream
Hydrates • Soothes redness & irritation • Calming Kalibiome AGE Probiotic
A cloud-soft moisturizer for calm, clear, hydrated skin. Boost water levels thanks to hyaluronic acid and mamaku black fern, while probiotics offer balance and strengthen the microbiome. Certified vegan.
Learn More
Add To Cart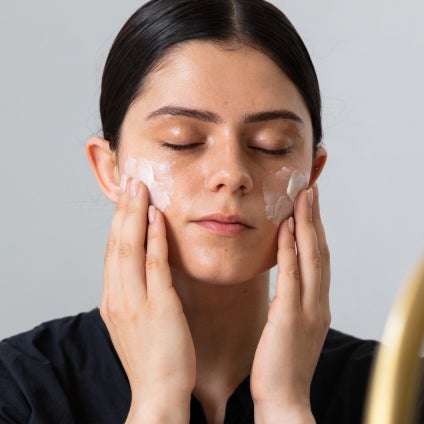 1. Cleanse
Massage Grace Gentle Cream Cleanser gently into damp skin using circular motions, before rinsing with warm and pure water.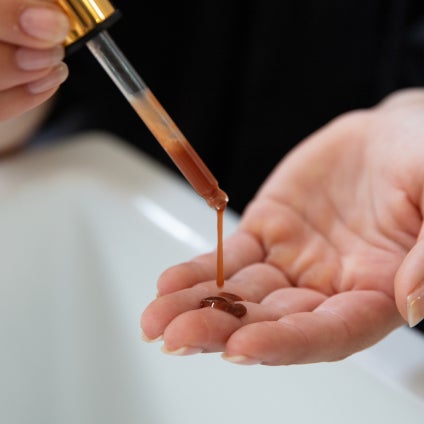 2. Serum
Dispense 3-4 drops of Apostle Skin-Brightening Serum onto cleansed face, neck and décolletage, and press gently into the skin.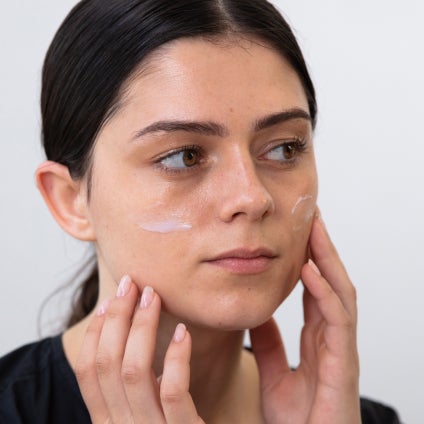 3. Moisturize
Lock in your serum by massaging generous amounts of Rejoice into skin each morning, and Culture at night.

Your personal regime, with 20% off.
Use code MYREGIME20 and receive 20% off this scientifically validated green routine now.
Add 4 items to cart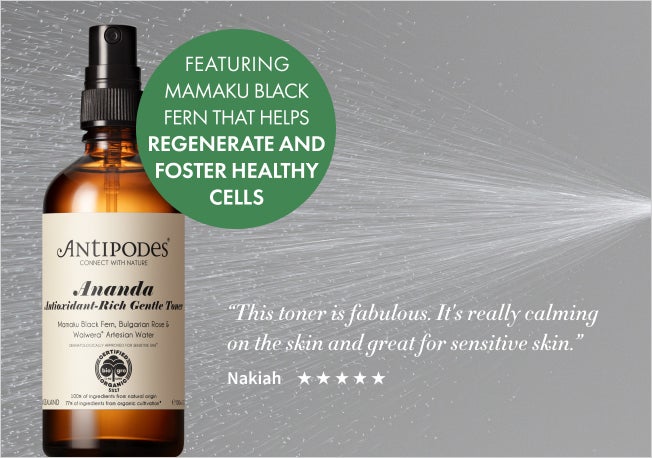 5. Ananda Antioxidant-Rich Gentle Toner
Hydrates & refreshes • Calms redness • Soothing aloe vera & marshmallow
A hydrating toner to provide instant refreshment while soothing and calming stressed skin. Bioactive mamaku black fern and raspberry seed oil replenish skin with moisture. Certified organic and vegan.
Learn More
Add To Cart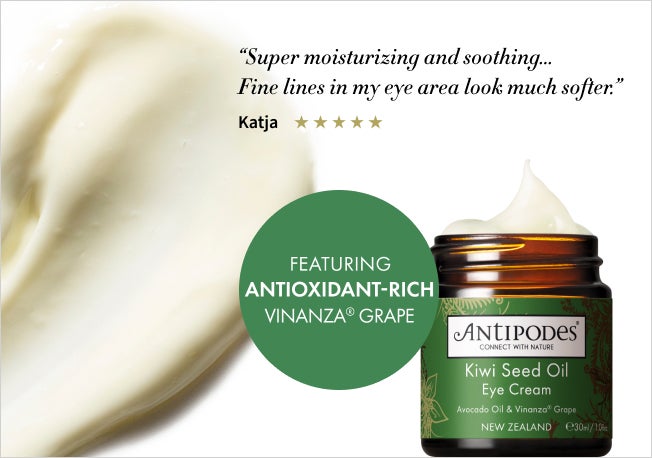 6. Kiwi Seed Oil Eye Cream
Hydrates & targets fine lines • No added fragrance • Antioxidant-rich Vinanza® Grape
A silky formulation with Vitamin C-rich kiwi seed oil to smooth, firm, and soften the appearance of fine lines. Featuring antioxidant-rich Vinanza® Grape to help improve skin elasticity. Certified vegan.
Learn More
Add To Cart