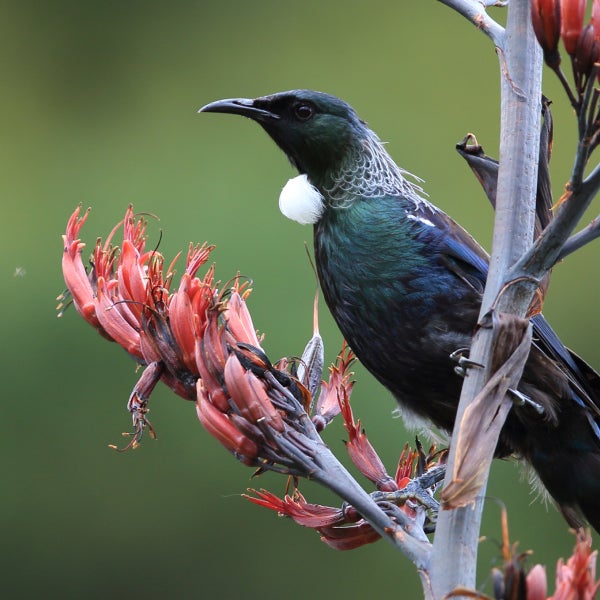 Sustainability from the inside out

Since day one, we have set out to become the world's most sustainable and efficacious natural skincare brand – and that means defining new benchmarks in beauty. Our products are made exclusively here in New Zealand, using locally sourced ingredients; they are independently certified by international organizations; and they are packaged in premium materials that are recyclable and biodegradable.
Of course, quality remains the pinnacle of achievement at Antipodes Skincare. We will never compromise the integrity of a formulation – but our innovative and thoughtful approach and drive to seek constant improvement, means we've never had to.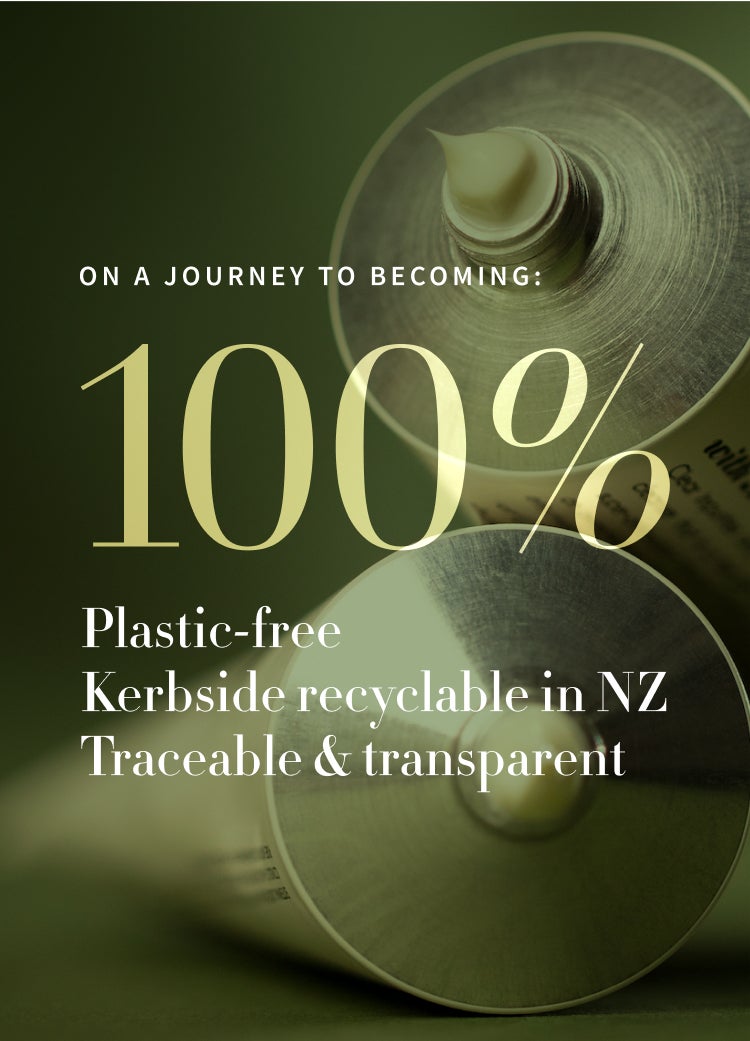 Champions of premium glass from the start
From the beginning, we've said no to low-quality, high-waste plastic – an approach that has saved more than 10 million plastic containers from landfill.

Instead, we choose premium planet-friendly materials that ensure our natural skincare maintains the highest integrity. Materials like apothecary-style glass, sleek aluminum, and durable, biodegradable cardboard. Equal parts luxe and low waste, these materials are endlessly recyclable, require minimal effort to recycle, and retain their quality, even when repurposed into something new. Sustainability and style, in symbiosis.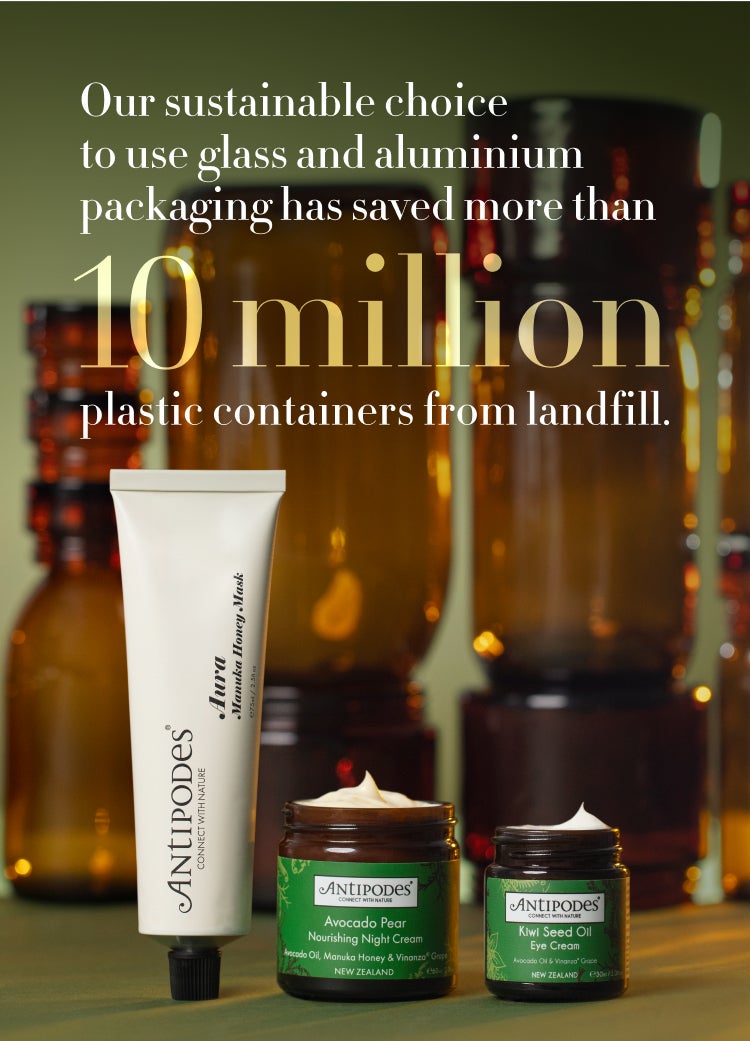 Low effort. Zero waste. High reward.
How do we make our sustainable ethos practical and achievable? By investing in recyclability. Our goal is for every component of our packaging to be recyclable through local council programmes – which means all you need to do with your Antipodes Skincare packaging is place it in your recycling bin.

Whilst every region, city, and even suburb has its own regulations, we're proud that our glass, aluminum, and paper materials are already recyclable in most markets around the world. We are researching alternatives for components that are currently unable to be recycled.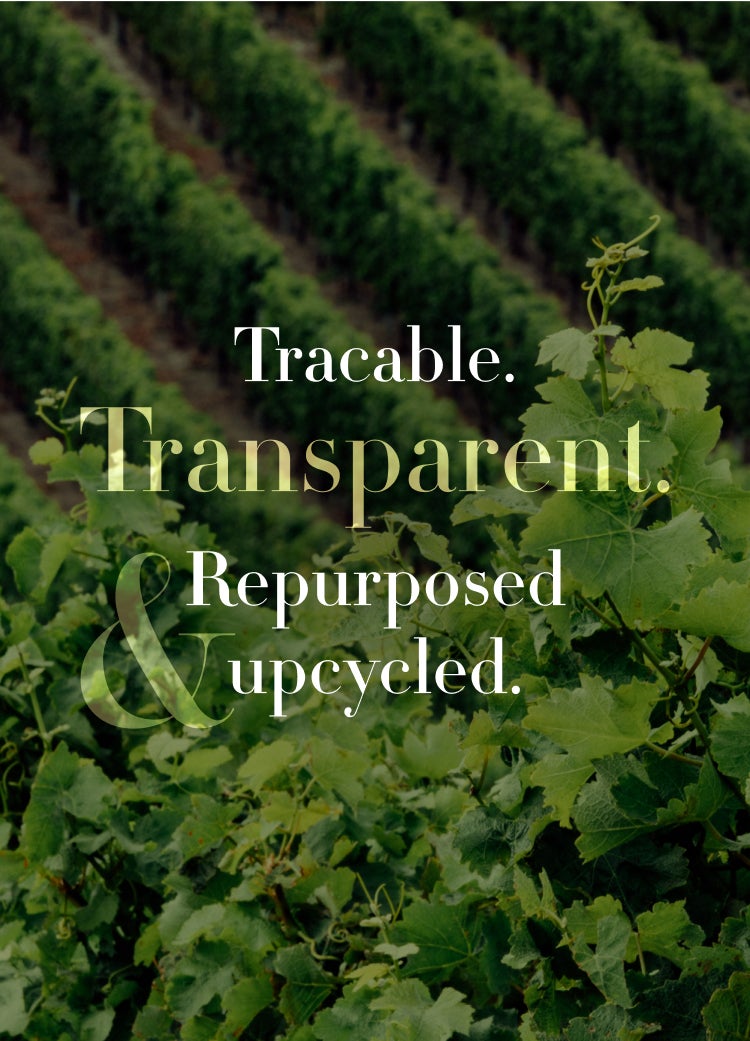 Traceable ingredients from forest to face
Not all brands know where their ingredients come from – but we do. We are privileged to partner with local New Zealand growers and producers who share our vision of sustainability. In fact, we've worked with many of the same suppliers since Antipodes Skincare was founded.

Thanks to these long-standing trusted relationships, we know our partners and natural skincare ingredients on a deeper level. That's allowed us to achieve 100% traceability of ingredients, from forest to face. Our next goal is to make this transparent for our devotees by publishing the results.
EXPLORE OUR TRACEABLE INGREDIENTS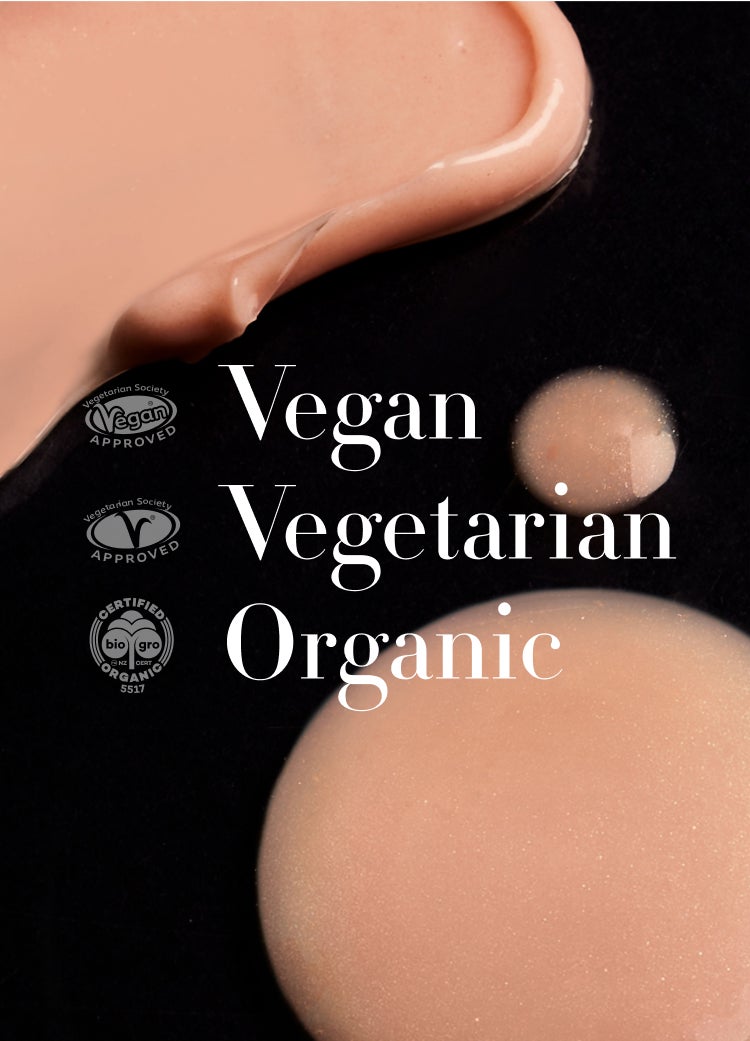 Certified by world-recognized organizations
What does "green" really mean? The proof is on the packaging. From BioGro to BCorp, we invest in independent third-party certifications to verify our status as a leader in sustainable natural skincare.

Each of our products is certified either vegan, organic, or vegetarian by internationally recognized organizations. To achieve this, Antipodes skincare formulations must meet strict criteria for natural status. They must not be tested on animals. And we must operate according to the highest standards of responsible business practice. Right now, we're awaiting our BCorp certification. Watch this space!
EXPLORE OUR CERTIFICATIONS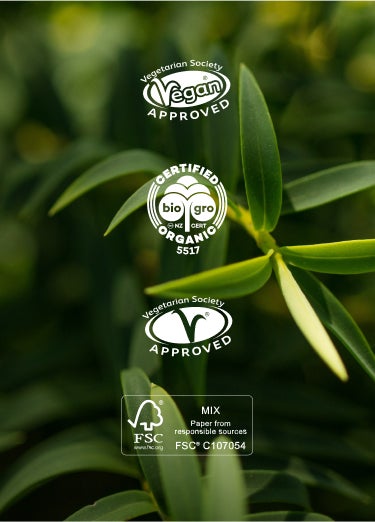 Our sustainability goals
Sustainability is a journey that takes time, effort, and passion. We're working on some exciting initiatives for 2023 and beyond, that will contribute to our ultimate goal: to be the world's most sustainable, efficacious natural skincare brand. We have met the criteria for BCorp status and are now awaiting our final audit alongside our cruelty-free certification. We are excited to join these international organizations shortly.
Here's what we're working to achieve:
BCORP CERTIFIED

The highest industry benchmark identifying businesses with outstanding performance in five key areas: governance, workers' rights, community, environment, and customers.
Current status: We've submitted our application to BCorp and are on our way to becoming certified.
LEAPING BUNNY CERTIFED

Our vegan and vegetarian status already verifies that our products are not tested on animals – but we're chasing that bunny, too. Leaping Bunny will provide us, and you, with additional certainty that we are 100% cruelty free.
Current status: We're working on it!
100% PLASTIC-FREE PACKAGING

That means zero plastic in our core natural skincare range. This is challenging, as some components do not yet have plastic-free alternatives. As new innovations come to market, we're confident in a plastic-free future.
Current status: 86% plastic-free across the Antipodes skincare range.
100% KERBSIDE RECYCLABLE*

We want every component of our packaging to be able to be recycled through your local council programme. Every town, city, borough, suburb, and even street has different rules – so we're going to start with Australia and New Zealand.
Current status: Our glass, aluminium, and paper materials can be recycled in most markets. We're researching alternatives for componentry that can't be recycled.
*In New Zealand.