As sure as the sky is blue, dry lips seem primed to seek us out. Uncomfortable and unsightly in equal measure, they're a drag if you love a pop of color in your makeup routine. We'll just put it out there: the thought of applying lipstick to flaky lips is the stuff of nightmares. Rome wasn't built in a day – and nor are healthy lips. By carefully curating your skincare regime, you can cultivate a pout that's fit to take out, so for all the advice you could ever need on how to heal cracked lips, you're in the right place.
Why do we get dry lips?
Unlike our face and other parts of our body, lips contain no sweat or oil glands. These glands serve as the skin's natural moisturizers – so you can see why our lips get dry so easily without them. The skin of our lips is also extremely thin; so thin, in fact, that blood cells are visible (that's where they get that rosy pink color). Protecting this thin skin barrier is a critical factor in maintaining healthy lips.
Beyond our genetics, exposure to the elements can have lips looking worse for wear. Extreme temperatures and wind are often the culprits, but the change of seasons is a factor, too. As the seasons shift, the level of moisture (humidity) in the air can shift with it, sapping our lips of moisture. It might seem counterintuitive, but saliva can actually strip moisture – so licking lips is officially banished from the list of cures for chapped lips.
The best way to treat dry lips
Prep lips with a conditioning balm.
Apply some color with a moisturizing lipstick
Protect with silky skin balm
Prevent by keeping on top of your lip care routine
For your healthiest lips, a lip conditioner and natural lipstick should be a staple of your routine. Yes, lipstick! The right natural formulas will plump, not parch.  The key is to layer lips with conditioning products that deliver nutrient-rich ingredients. Even lipstick can fit into this ultra-hydrating routine.
1: Prep & protect lips with a conditioning lip balm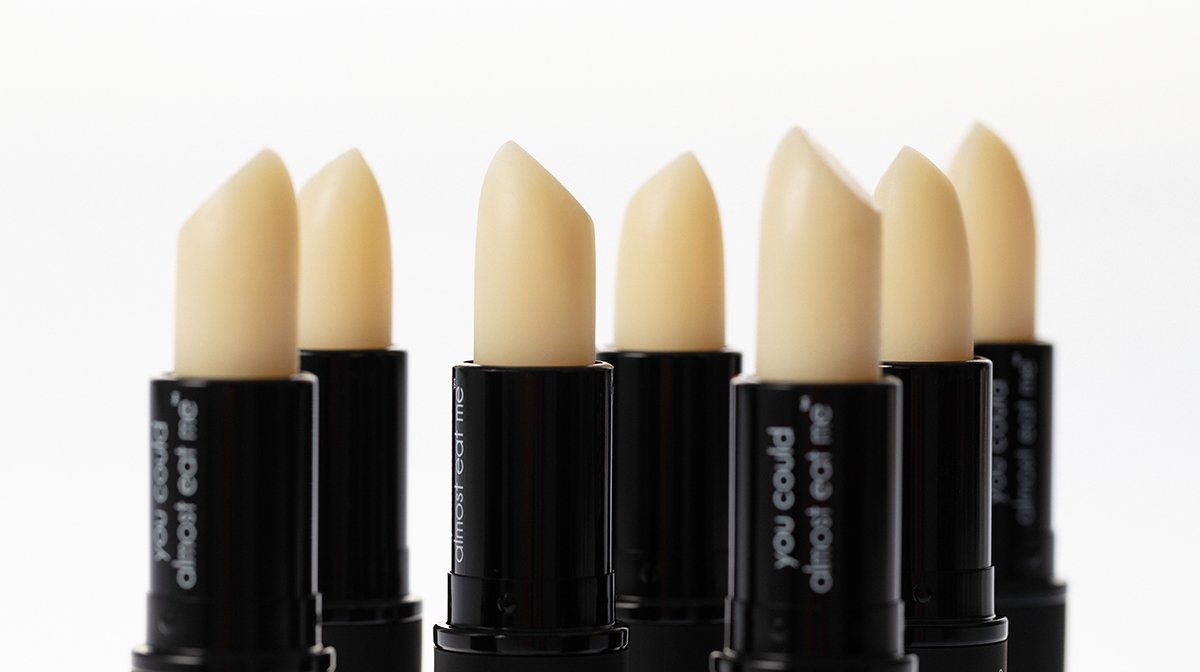 Make sure that little tube lurking at the bottom of your handbag is a quiet achiever. A conditioning balm such as Kiwi Seed Oil Lip Conditioner is the best lip balm for dry lips, delivering moisture without the greasiness that comes with ultra-oily treatments and high-shine glosses.  The skin of the lips is kept healthy, hydrated, and flake-free thanks to a blend of bioactives. Kiwi seed oil, ultra-rich in Vitamin C, joins avocado oil, full of essential vitamins and omegas. These oils help the balm protect against water loss and increase surface lipids, keeping lips soft and plumped in appearance.